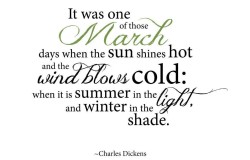 Posted on March 11, 2016 by Amy in Updates.

The month of March brings on the yearning of spring. Many famous literary greats have written about it. And no one can forget Shakespeare's Beware the Ides of March. March has always felt like a turning point month for me. Hopefully, winter leaves and the warmer weather seeps in. It is a great motivator […]

Continue Reading... No Comments.