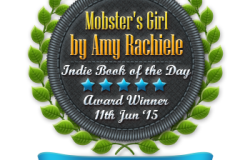 Posted on June 12, 2015 by Amy in Updates.

Hi all! I am thrilled to announce that Mobster's Girl was selected as the Indie Book of the Day Award winner for June 11, 2015. You can find it listed on the IBD winners database, as well as a 'for life' feature post. Feel free to share the news with others, or download a FREE […]

Continue Reading... No Comments.